Here Are The
Main Types of Siamese Cats
-- Types of Siamese Cats--

Siamese cats in general are beautiful, elegant, and somewhat regal creatures with a real air of elegance and class to them. They carry themselves like princesses (or princes!), have a very high degree of intelligence, and make unique and loving pets for those that are prepared to put in the time and effort to give them the love and devotion that they need.
There are a number of different types of Siamese cat that you can choose from, which have slightly different features and appearances, although many of the personality traits remain the same. There are four main types of Siamese in terms of colour or 'points' which refers to the colouring on certain points of the body such as the tail, paws, ears, and sometimes the facial mask.

The Different Types
The Seal Point Siamese is a cat with very dark points on its body, and these are almost black in terms of colour. The main body can have fur that is fawn or medium brown, which can then darken over time.
The Chocolate Point Siamese has warm chocolate coloured points on its body, and the fur on the rest of its body tends to be pale. It can have a pink tinge to the paws and nose.
The Blue Point Siamese has points that are a slate blue or a silvery blue in colour, giving them a unique and striking appearance. These are more rare than the above two types.
The Lilac Point Siamese has grey or silvery points with a pinkish tinge to them, earning them the name of lilac points or frosty points. These are also very striking looking cats and, like the Blue Points, are not as common as the seal and chocolate.
Other variations of Siamese cats do exist too, although they are not officially recognised. This includes variations such as the flame point, the tortie point, and the lynx point. These variations have been developed through breeding, and cats in this group may show many of the physical and behavioural features of a recognised Siamese.
Other common titles that people use to describe the different types of Siamese cats:
TRADITIONAL SIAMESE CAT
Photo courtesy of Wikipedia
This version of Siamese cat has a round face, is big boned and has an elongated body.
The traditional Siamese cat is said to be very intelligent, healthy, loyal to its owner, and very "talkative".
This type of Siamese cat is also known to be the original Siamese that was brought from Siam, Thailand.

CLASSIC SIAMESE CAT
Photo courtesy of Flikr user epaminondas123
The Classic Siamese is also big boned, but has a slightly more elongated body than the traditional.
Its head is wedge shaped, but not extremely so. It is known as the second original Siamese that was brought over from Siam, Thailand.
On both the traditional and the classic Siamese, their coats are short, thick and very soft to the touch.
MODERN SIAMESE CAT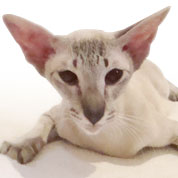 Photo courtesy of Wikepedia
The modern or "extreme wedge" has a unique look to it. It is known for its long, willowy body, huge ears, and a head that is shaped like a sharp wedge. The head on a modern Siamese cat looks like a slice of pie, accompanied by big ears and long nose.
This type of cat has been genetically engineered, being derived from the two original Siamese types listed above. Intense breeding was used to make the Modern Siamese Wedge. 
Due to this type of breeding, the Modern Siamese has a poor immune system and a genetic predisposition to illnesses.
What is Your Favourite Type of Siamese Cat?
I want to hear what your favourite Siamese is. Do you prefer the more traditional look, classic or do you fancy the extreme modern wedge. Post below which Siamese is your favourite and why.
What Other Visitors Have Said
Click below to see contributions from other visitors to this page...

---
Home

»
Types of Siamese Cats
---
Come and join us
We're a thriving community on Facebook, too. Click the Like button below to follow along, then pop on over and say hi. 

If this feels like your kind of place, why not bookmark us and visit us again? We'd love to see you. Links to new or updated pages are always included in What's New? 
Or, to make sure you never miss out on anything, use the form below to sign up for our newsletter. 
Enjoy this? Don't miss out
Sign up for our free newsletter!
Our monthly stroll through items of interest, news and stories, photos, tips, and our cats of the Month.
Don't worry — your e-mail address is totally secure.
I promise to use it only to send you Siamese Cats.
.