Zebedee
by April
(UK)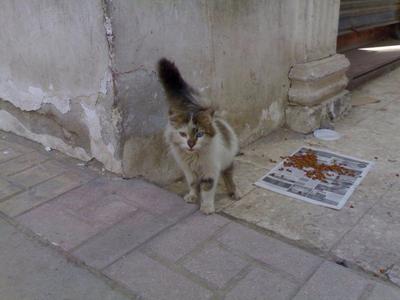 Back in February I saw a photograph of a street cat in Alexandria, Egypt being fed at one the the feed stations set up by a local rescuer, Ayman. This rescuer attempts to feed the many stray street cats that have simply either been born to the cruel streets or dumped on the streets of Egypt to meet their fates. Having been involved with various rescues in Egypt, this particular cat melted my heart at a time when we were going through the grief of the loss of one of our others cats.

In time, Ayman managed to catch this little fella and while boarded in a vets cage in Alexandria, arrangements were made to take him to Cairo, where a suitable foster would be found to look after him for the four months quarantine and travel preparation required for him to enter the UK.

Four months may seem a long time but it seemed to fly. With vaccinations, blood test, microchipping and neutering all done at a cost including board of about £350, it was time to book Zeb's flight.

Zeb flew with his new sister Flora and three other cats to the UK on the 22nd July 2015. After an overnights stay at the Animal Reception Centre at Heathrow airport, Zeb, Flora and the other cats were released into the safety of a friend who drove that day all the way back to Scotland with her precious cargo. At a designated point, we met and finally had Zeb and Flora handed to us.

Kept apart from our other two cats and whilst vet checked, we slowly introduced them both to our other cats. Since then, they've integrated really well. Zeb has obviously suffered some abuse as a street cat. He hates his tail being touched and picking him up in impossible. He also hates male vets. Perhaps a result of the males vet treatment he received in Egypt.
Come and join us
We're a thriving community on Facebook, too. Click the Like button below to follow along, then pop on over and say hi. 

If this feels like your kind of place, why not bookmark us and visit us again? We'd love to see you. Links to new or updated pages are always included in What's New? 
Or, to make sure you never miss out on anything, use the form below to sign up for our newsletter. 
Enjoy this? Don't miss out
Sign up for our free newsletter!
Our monthly stroll through items of interest, news and stories, photos, tips, and our cats of the Month.
Don't worry — your e-mail address is totally secure.
I promise to use it only to send you Siamese Cats.
.