I prefer the Traditional Siamese.
by Kimberly Carman
(Hardinsburg, KY)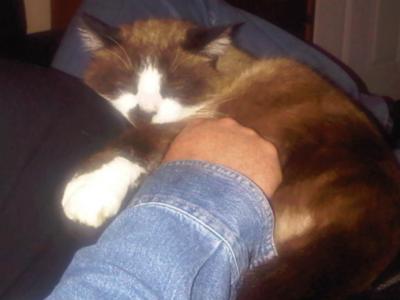 Cleatus loves my husband Kevin
My name is Kim. I have what is known as "snow-showed Siamese" cats. I have 2. One that is 18 and one that we adopted that was found in a park last winter in the freezing cold. After trying to locate the owner w/ no luck, we took him in. Our 18 year old is a female. Her name is Prissy. She is my pride and joy. Born to a litter in a friend's backyard, she is not full-breed, but definitely has some Siamese blood. Our latest addition we have named Cleatus. He is approximately 5 years old, as estimated by our vet. He weighs in right @ 13 lbs which is the average weight of the male! He is also snow-shoed, but he definitely displays more of the traits described on your website for the traditional Siamese. I just love my 2 Siamese cats. They are such sweet animals and so loyal. My husband was never really a cat person but he has really taken to these 2. There really has been a special bond between him and the male Siamese, Cleatus.
Join in and write your own page! It's easy to do. How? Simply click here to return to Submit Your Cat.
Come and join us
We're a thriving community on Facebook, too. Click the Like button below to follow along, then pop on over and say hi. 

If this feels like your kind of place, why not bookmark us and visit us again? We'd love to see you. Links to new or updated pages are always included in What's New? 
Or, to make sure you never miss out on anything, use the form below to sign up for our newsletter. 
Enjoy this? Don't miss out
Sign up for our free newsletter!
Our monthly stroll through items of interest, news and stories, photos, tips, and our cats of the Month.
Don't worry — your e-mail address is totally secure.
I promise to use it only to send you Siamese Cats.
.