Cheap Cat Beds
There are a many cheap cat beds on the market these days. However, you need to find out where to look for beds that are both cheap and high quality and you need to work out which style best suits your cat.
Cat beds come in various styles and price ranges, and like anything, generally you get what you pay for. But sometimes you can get lucky and find a high quality cat bed for a very affordable price! Here are some tips on how to get that steal-of-a-deal:
Look on eBay - There are usually some pretty incredible deals online, and eBay is generally the first place to look.
Search on local online classifieds - Some great sites are Craigslist.com, Kijiji.com, and Buysell.com.
Garage Sales - Nothing beats garage sale prices! Keep an eye out for ones near you.
Make one yourself - This is a lot easier than you might think. Making a cat bed can be as easy as filling an old pillow case with some fluffy filling and sewing it up!
Store sales - Keep your eye out for cat beds to go on sale at your local pet stores. Often the salespeople in the store will know when a good sale is coming up.
Cheap Cat Beds - Styles
Cat Pillows - These are great if your cat prefers to sleep on pillows. Some brands even allow you to put them in the microwave to warm them up. These pillows can be tossed in the washer to be cleaned, and some have removable covers.
Cat Beds -

Some types of beds are more like a cat cave or igloo, allowing your cat to hide and sleep through the night wrapped in the soft warmth of the material. Others are round, and open on the top, with a soft pillow in the center that is removable. These work well if you have more than one cat.

Heated Pet Beds -

To give your cat some extra warmth and comfort, get your cat a heated bed. There are some that are strictly for indoors or outdoors, and some that can be used in either setting.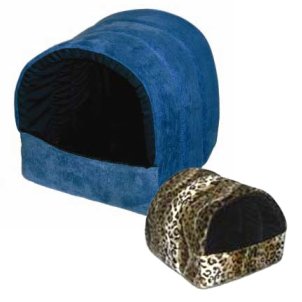 Heated Cat Blanket - An alternative to getting a heated pet bed is to get a heated pet blanket. These are great for if you want to travel and take your cat along with you. They come with a 12 volt thermostat that can be controlled, and they use a standard household plug in. You can also get them to come with a with a car adapter, for those times that you want take your cat along for the ride. The cover is generally removable for washing.
Cat Baskets - This is a cat bed that is made to be inside a woven basket.
---
Home

»
Discount Cat Furniture

»
Cheap Cat Beds
---
Come and join us
We're a thriving community on Facebook, too. Click the Like button below to follow along, then pop on over and say hi. 

If this feels like your kind of place, why not bookmark us and visit us again? We'd love to see you. Links to new or updated pages are always included in What's New? 
Or, to make sure you never miss out on anything, use the form below to sign up for our newsletter. 
Enjoy this? Don't miss out
Sign up for our free newsletter!
Our monthly stroll through items of interest, news and stories, photos, tips, and our cats of the Month.
Don't worry — your e-mail address is totally secure.
I promise to use it only to send you Siamese Cats.
.