Build Your Own Cat Tree
If you're handy with tools and like DIY projects, why not learn how to build your own cat tree? Not only is it a great project for those that are confident about their DIY skills but it's also a nice alternative to buying a cat tree if you're strapped for cash. You'll save money, and end up with a piece of cat furniture that's designed perfectly to fit in with your home and your cat's needs.
If you are interested in trying your hand at building a cat tree you may find this eBook useful, as it provides step by step instructions to help you achieve success with your cat tree project. You can access the eBook here on Cat Tree Construction Plans

What You'll Need To Get Started:
This is a list of the items you'll need to make your cat tree. (Some of the items are optional)

Pen
Paper
Measuring Tape
Wood
Nails
Screws
Wood Glue
Hammer
Screwdriver
Staple Gun
Drill
Saw
L Brackets
Carpet
Design and Research - First you'll want to do some research to find out what kind of cat climbing tree you prefer. Look at pictures of the various styles available, and once you've selected what you want, create a design of it, complete with dimensions. A simple drawing on a piece of paper will do.
Knowing what the dimensions of what you're going to build is important because this determines how many supplies you'll need.
Here are some examples to give you an idea of what various cat trees look like. There are lots of different cat tree styles out there; some have several platforms, poles and even bonus items like toys and tunnels for your cat to hide in.
Buying Supplies - Next you'll need to buy all the supplies to build your own cat tree. It's a good idea to get extra supplies, just in case any mistakes are made. You may choose to use plywood, chipboard or any other type of wood that your budget allows for. The base of the cat tree needs to be quite heavy, and large enough for your cat to be able to play on it safely.
Putting The Pieces Together - Before you begin piecing your tree together, you need to cut your pieces of wood according to the dimensions you have drawn up. After doing this secure the wood together, either with wood glue or screws. You can even use both for a more secure hold.
Secure carpeting onto the platform, the columns and onto any ramps you've made. You can do this either with glue or staples.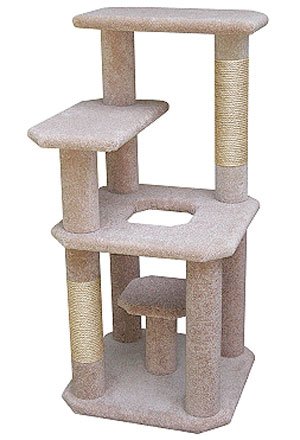 If you're using staples, make sure that none of them are sticking out before you let your cat loose on the tree – the last thing you want is an injured feline with staple injuries all over them!

Once your cat tree is finished, you can use L shaped brackets to attach it to the wall, floor or ceiling for added support. You should use these same brackets on any columns, and on the bottoms of any platforms you've added.

Important Note: Before giving your cat his climbing tree, look over it closely for any sharp ragged edges or splinters. If you find any, smooth them out with sandpaper. If there are any nails or screws sticking out, make sure that you fix these as well, otherwise your cat could end up injured.

---
Home

»
Discount Cat Furniture

»
Build Your Own Cat Tree
---
Come and join us
We're a thriving community on Facebook, too. Click the Like button below to follow along, then pop on over and say hi. 

If this feels like your kind of place, why not bookmark us and visit us again? We'd love to see you. Links to new or updated pages are always included in What's New? 
Or, to make sure you never miss out on anything, use the form below to sign up for our newsletter. 
Enjoy this? Don't miss out
Sign up for our free newsletter!
Our monthly stroll through items of interest, news and stories, photos, tips, and our cats of the Month.
Don't worry — your e-mail address is totally secure.
I promise to use it only to send you Siamese Cats.
.