BLUE-POINT SIAMESE
by Danette
(Port Elizabeth, South Africa)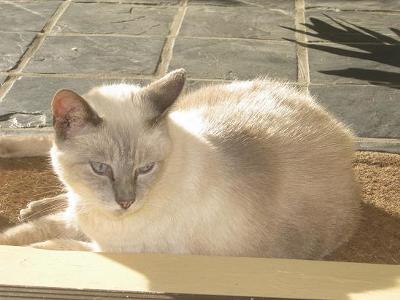 Our blue point Siamese, Snowflake
We have a Blue Point Siamese, named Snowflake and we call her Snowie. She is almost 15 years old now and so adorable. She loves "talking" to my husband and I and sitting on my lap whenever she can. She is thoroughly spoilt and knows it!
I love her colouring and havent personally seen many cats that look like her.
She is a great comfort to me, since her brother, Ginger (who was like a child to me),died in February this year.
Her mother is a normal Tabby cat, her father (who we don't know anything about), must have been Siamese for her to have the colouring she has. Her brother, Ginger, who has the same mother, but a different father, had no Siamese in him.
Join in and write your own page! It's easy to do. How? Simply click here to return to Submit Your Cat.
Come and join us
We're a thriving community on Facebook, too. Click the Like button below to follow along, then pop on over and say hi. 

If this feels like your kind of place, why not bookmark us and visit us again? We'd love to see you. Links to new or updated pages are always included in What's New? 
Or, to make sure you never miss out on anything, use the form below to sign up for our newsletter. 
Enjoy this? Don't miss out
Sign up for our free newsletter!
Our monthly stroll through items of interest, news and stories, photos, tips, and our cats of the Month.
Don't worry — your e-mail address is totally secure.
I promise to use it only to send you Siamese Cats.
.